Stella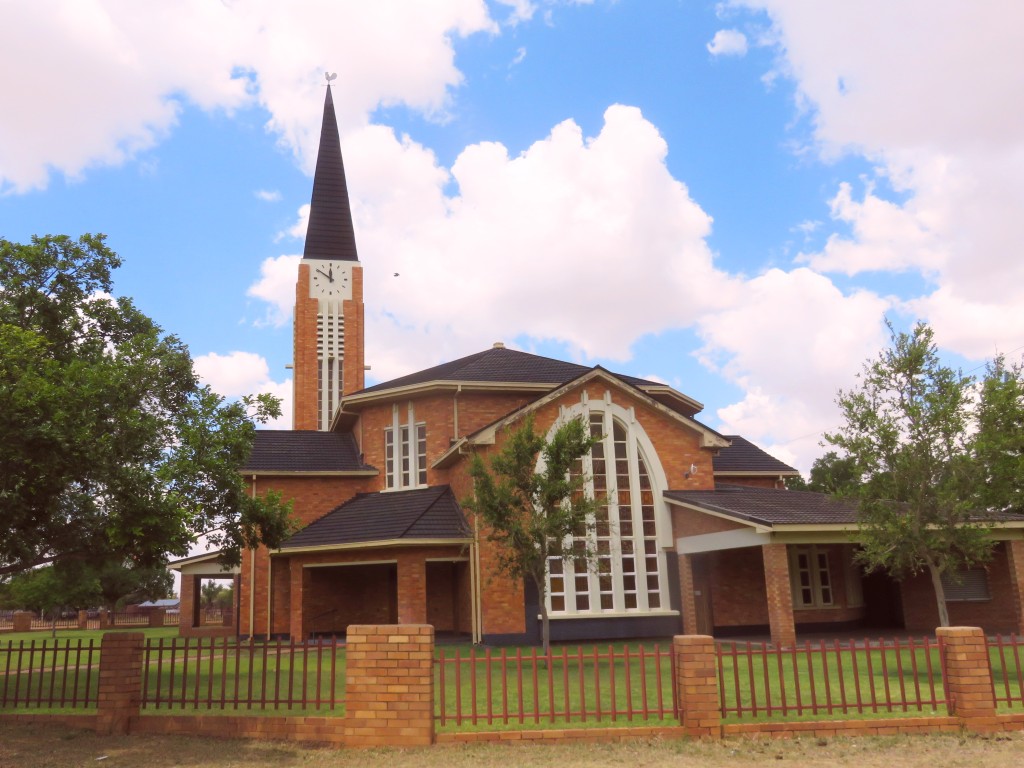 Stella! Not much to write about, it is a town in the North-West Province, 50km north-east of Vryburg. Geo-location: 26.5525°S, 24.866°E and 1303m altitude.
There is very little information about the town on the Internet, also my books didn't help. What I gathered from a note is that the town was started in the 1920th. Electricity supply only came in 1976. We spent the afternoon there, driving and looking around. One doesn't get the impression that this is a thriving place and note there are potholes, but no litter.
The biggest church around is the NG church (Nederduits Gereformierte Kerk). The corner stone states that the architects were Gerhard Moerdyk and Watson, this was a surprise to me since this was not built in the common style of Moerdyk that I know. This building was designed in his later years and not built from sand stone. It is still a majestic building, pleasing to the eye. The cornerstone was laid on 29 September 1950. Next to the corner stone is a commemorative stone which indicates that the congregation exists since 1919. I presume it ceded from Vryburg at the time.

Other churches we found in town were the NH Kerk (Nederduitsch Hervormde Kerk) and the APK (Afrikaanse Protestantse Kerk).
A prominent natural feature near the town is the large salt pan of about 160 hectares, see picture. It was used in the past to extract salt. Google Earth clearly shows up the former crystallising pans, it was a fairly extensive system. Apparently the water on the pan is still very salty, but, I suppose, the quantity is not sufficient to make it profitable to extract.